In Pacengo, very close to Lazise, there's the agriturismo-agricamping Ca' del Sol, the only one in the region obtained from an ancient farmhouse, surrounded by 120.000 Sq. mm of land, is managed by the family Pietropoli.
The cosy and refined environment, even maintaining that typical rural charm, is truly a pearl of the Lake Garda.
The Agriturismo Ca' del Sol is in Località Casa Antonia, original name of the house according to the old habit of putting the home under the protection of a saint.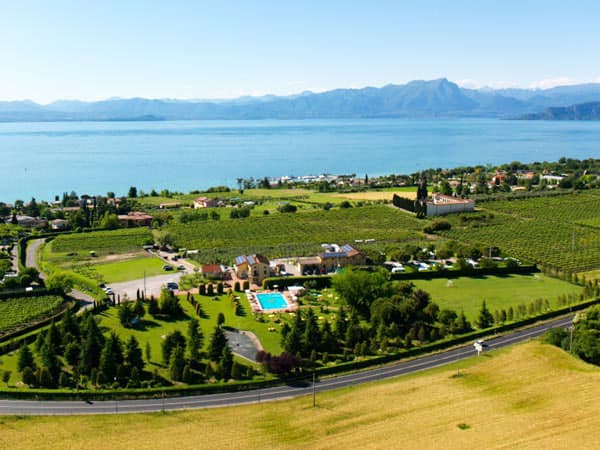 The Agriturismo, built in the 50's, still conserves the typical architectural structure, with the old farmyard in front of the reception where in the past the wheat was dried out, today used for the breakfast in the morning.
In the main house you can find the reception, the touristic info point, the shop where you can buy our eno-gastronomic products and souvenirs, the romantic room next to the reception where in past there was the barn with the hayloft, the veranda, decorated with comfortable white sofas where you can read the newspaper through our digital bookshelf and some rooms, the oldest ones, comfortable and well equipped like the most modern.
Just behind the main house, on the ground floor there are two rooms with small kitchen and veranda and the new building with the most modern rooms with a wonderful view on the whole Lake Garda, and on the olive groves and vineyards of the Agriturismo.
Free private parking with video cameras and nocturnal lightning at the disposal of the guests during their stay.
Eventually, next to this new building, there's the new Agriglamping with the beautiful mobilhomes.